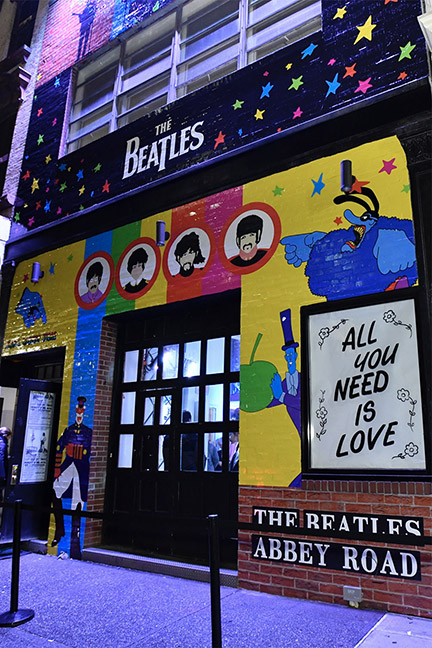 Last night, we were privileged to work with Sony Entertainment to open the first ever pop-up shop for The Beatles.  The shop opens on the heels of the announcement that Sony Entertainment has acquired the merchandising rights to the entire library of artwork of The Beatles.  The shop, open from today through the 21st of December, 2019 on Mercer Street between Houston & Spring in SoHo, NYC, is set up as an interactive experience where the shoppers are able to step "into" the album covers of the Fab-Four's most iconic volumes – Instagram moments anyone???
The legions of media & VIP's in attendance were all in awe of the space… & you will be too, if you hustle downtown… & bring your cards, you're going to want to spend!
VIP's in attendance included Actress Kathrine Narducci (seen below in the British phone booth) & Rock Photographers Mick Rock (who was also spinning with his cohort DJ Cash) & Bob Gruen (pictured below left to right).
Can't make it to the store… worry not, you can shop on-line long past December 21st at the following link:  The Beatles Store