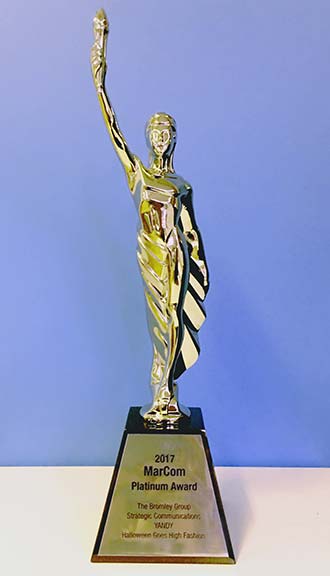 We're very excited to announce that The Bromley Group has been awarded the 2017 Platinum MarCom Awards for "talents exceed a high standard of excellence and whose work serves as a benchmark for the industry." Only 17% of submissions receive the honor of Platinum.
The honor was given for Strategic Communications | Media Relations/Publicity | Publicity Campaign: Yandy Halloween Goes High Fashion:
Leading Internet Retailer Increases Product Sales, Brand Visibility, Website Traffic, and Audience Reach Through New York Fashion Week (NYFW) Publicity Campaign.
"Being a Platinum Winner is a tremendous achievement and we are thrilled to be in such good company. We always strive to meet the goals of our clients with creative and strategic thinking," says Karen Bromley, principal, The Bromley Group.
TBG was selected from over 6,500 entries from throughout the United States, Canada and 17 other countries. MarCom Awards is administered and judged by the Association of Marketing and Communication Professionals, which consists of several thousand creative professionals.